ICTT 2013_City_of_Nis
Contents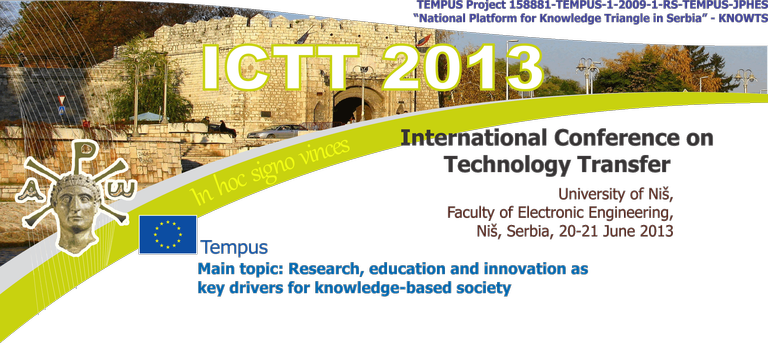 ICTT 2013

The Conference ICTT 2013 will be held on 20th and 21st June 2013, at the Faculty of Electronic Engineering, University of Nis, Serbia.

Niš (Serbian Cyrillic: Ниш, pronounced [nîːʃ] ( listen), sometimes rendered Nish or Nissa in English) is the largest city of southern Serbia and the second-largest city inSerbia (after Belgrade). According to the 2011 census, the city has an urban population of 187,544 inhabitants, while its administrative area has a population of 260,237.[2] The city covers an area of 597 km², including the urban core, town of Niška Banja and 68 suburbs. Niš is the administrative center of theNišava District.

It is one of the oldest cities in the Balkans and Europe, and has from ancient times been considered a gateway between the East and the West.[3] It was namedNavissos by the Scordisci in 279 BC, after an invasion of the Balkans. The city was among several taken in the Roman conquest in 75 BC; the Romans built theVia Militaris in the 1st century, with Naissus being one of its key towns; it is also the birthplace of Constantine the Great, the first Christian Emperor and the founder of Constantinople, and Constantius III and Justin I. It is home to one of Serbia's oldest churches, dating to the 4th century, located in the suburb of Mediana.

Now-days, Niš is one of the most important industrial centers in Serbia. Constantine the Great Airport is its international airport. In 2013 the city will host the celebration of 1700 years of Constantine's Edict of Milan[4]. Rich in ancient monuments which bear witness of turbulent periods of its history, Nis is now a burgeoning seat of learning, as well. University of Nis, although relatively young, has come to be called "my alma mater" by many of the highly skilled professionals. Faculty of Electronic Engineering, one of the organizers of the Conference ICTT 2013, has constantly been giving a significant contribution to the development of the University of Nis, as one of its most prosperous institutions. The University of Niš was founded on June 15, 1965.
Document Actions